I received a call Monday night from Roger Stone, the infamous political prankster and Donald Trump confidant. He wanted to talk about Anthony Scaramucci, whose 10-day tenure as White House communications director had just ended in ignominy.
Stone said that Scaramucci reminded him of "a suicide bomber," then switched centuries for his next metaphor. "The administration is like the French Revolution," Stone said. "You never know who will be beheaded next."
But Stone didn't believe that Scaramucci would stay far from the president for long. "As you know, none of us are ever really gone. He still has the president's cellphone, the president's private number. Just because he's not in the White House, no one should think his influence has gone."
When I spoke to Scaramucci on Tuesday afternoon, the financier was more interested in justifying his recent past.
From the beginning of his time in the Trump White House, way back on July 20, critics said that Scaramucci was too similar to Trump, too eager to be on TV, to last. Scaramucci was keenly aware of that particular liability. It explains why his opening news conference was so filled with compliments for the president. He knew there was only one person watching whose opinion of him mattered.
"The president thought I killed it," Scaramucci told me the following day, still clearly hyped up by his experience in the White House briefing room.
The administration is like the French Revolution. You never know who will be beheaded next. Republican strategist Roger Stone
"If you were 7 inches taller, I'd be worried," Trump told Scaramucci, according to someone familiar with the conversation who asked not to be named quoting the president.
The euphoria wouldn't last long. A Politico reporter alerted Scaramucci that Ryan Lizza of The New Yorker tweeted Wednesday night that Scaramucci was at dinner with the president, first lady Melania Trump, Fox News host Sean Hannity and former Fox News co-president Bill Shine.
Scaramucci was livid about the information being passed on to a reporter. For one thing, he said the guest list was incomplete. The tweets didn't mention the presence of Ainsley Earhardt and Brian Kilmeade, co-hosts of "Fox & Friends," as well as White House counselor Kellyanne Conway and Vice President Mike Pence, who, he said, left before the sit-down dinner. For another, he knew that the full guest list also included Kimberly Guilfoyle, co-host of "The Five" on Fox News. Early the next morning, Olivia Nuzzi of New York Magazine confirmed that Guilfoyle was there.
Scaramucci realized that the inclusion of Guilfoyle would raise suspicion. He said he was aware that some associates and members of the media were gossiping about his friendship with the Fox host and feared this particular connection would only make matters worse. He said he took it as "an attack."
Scaramucci strongly denies having a sexual relationship with Guilfoyle. Stone, a friend of Guilfoyle's, explained that Scaramucci and Guilfoyle "are very close friends but nothing more." He added, "He is way too short for Kimberly."
Through a Fox News spokesperson, Guilfoyle said she's known Scaramucci for years through her work at Fox News and the two are "good friends."
As soon as Scaramucci returned from Wednesday night's dinner, he called Lizza and gave his now-infamous interview, published Thursday, in which he suggested that former White House Chief of Staff Reince Priebus was a "paranoid schizophrenic" and that White House chief strategist Steve Bannon practiced auto-fellatio.
Scaramucci said he felt burned by the interview. "The Lizzas and Scaramuccis have been friends for over 50 years. My dad knew his dad from construction, and we were building a personal relationship. Most of what I said was humorous and joking. Legally, it may have been on the record, but the spirit of it was off. And he knew that."
Still, Scaramucci told me, he has plans to take Lizza out for a beer.
Most of what I said was humorous and joking. Legally, it may have been on the record, but the spirit of it was off. And he knew that.Anthony Scaramucci on The New Yorker interview
When I asked Lizza for his response, he wrote back: "I've only known Anthony in his capacity as a Trump surrogate and then White House communications director. We are not and have never been 'old family friends,' though I think our fathers knew each other, so maybe that's what he's talking about. (The Long Island Italian world in that generation is relatively small.) But again, that would not be a reason to suppress an explosive on-the-record interview."
According to several sources close to the White House, the president was initially amused by the Lizza exchange but changed his opinion when he saw how much negative attention it was bringing. Scaramucci said he offered to resign before the weekend. The president told him that wouldn't be necessary, but he instructed Scaramucci to "watch it" in the future, according to someone familiar with the conversation.
I spoke with Scaramucci on Saturday morning, and he sounded defeated. "I think I have strep," he said. On top of everything else, the night before, The New York Post had broken the news of his impending divorce from his second wife, Deidre Ball.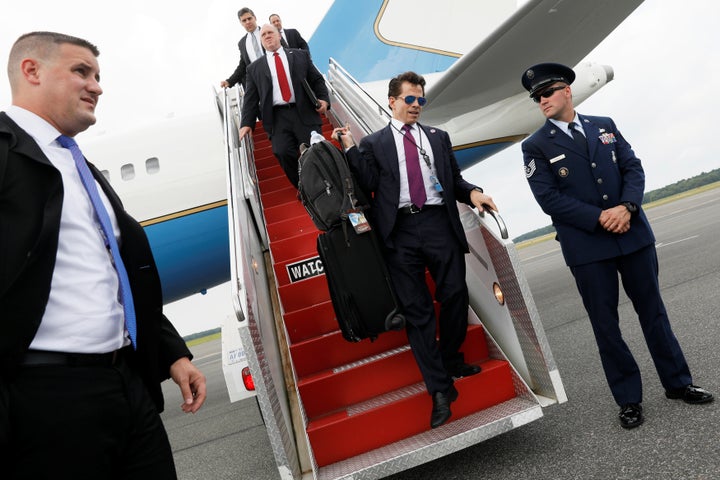 That Scaramucci's marriage was in trouble was hardly a secret. Long before Ball filed for divorce on July 6, Scaramucci was open with friends and associates about what he believed to be the sorry state of their union and how they were struggling through regular counseling sessions.
He just hated that his relationship was being discussed in public. A follow-up report from the Post said that Scaramucci didn't attend the birth of their son last week. Instead, he sent Ball a short congratulatory text.
Scaramucci said this is an unfair characterization of events. He told me that Ball's due date was Aug. 9, so when he boarded Air Force One to West Virginia last Monday to attend the president's address at the National Scout Jamboree, he didn't think he'd be in danger of missing the birth. As soon as she texted him that she was going into labor, he said, he looked into chartering a plane from West Virginia but discovered that there was a wide no fly-zone around Air Force One. He explained that he decided to wait to fly back to Washington with the president, then travel to New York from there.
As of Tuesday afternoon, he still hadn't met his son. Scaramucci claimed that right after the birth Ball texted him her request for some space. When I asked about this text, Ball's lawyer, Jill Stone, responded: "Any texts of that nature had nothing to do with the baby or seeing the baby." (Jill Stone said she couldn't comment on the rest of Scaramucci's version of events.)
When I spoke to Scaramucci on Saturday, he didn't have much to say about the collapse of his marriage. "It's fine. I mean, what am I going to do?" He perked up when he started talking about the fantastic team he was going to bring into the White House's communications shop and the big plans he was going to enact after a tumultuous first week.
But on Monday morning, Scaramucci knew he was cooked. Retired Marine Gen. John Kelly, the new chief of staff, who insisted that all White House staff report to him, asked for his resignation. "It was a very polite conversation," Scaramucci says.
Scaramucci then went to see Trump, who was unavailable. He ended up speaking with the president, his daughter Ivanka Trump and his son-in-law, Jared Kushner, separately later in the day by telephone. All were gracious, he said. "The president told me he knows I have his back, but he has to try to tighten the ship."
So what are you going to do next, I asked him.
"I am now going to go dark," he said.
"Then I will reemerge." He paused. "As me."
CLARIFICATION: The section about Ryan Lizza's and Olivia Nuzzi's tweets was changed to more accurately reflect the night's sequence of events.