In the public feud between Anthony Scaramucci and Reince Priebus, what hasn't been fully explained is why Scaramucci so dislikes the president's now-former chief of staff — a man he alternates between calling "Reince Penis" and "Rancid Penis," according to an adviser to the White House.
The acrimony first surfaced during the presidential transition. The two men had been cordial before then. They met six years ago, when Scaramucci was a fundraiser for presidential candidate Mitt Romney and Priebus was chair of the Republican National Committee. They interacted peaceably during Donald Trump's campaign as Scaramucci made the rounds on television and at donor events.
After Trump's victory, Priebus was named chief of staff, and Scaramucci, according to someone close to the transition, was assured that he was also in line for a big position within the administration. (Sources for this story requested anonymity to discuss the details of sensitive conversations.)
While preparing for his move into government, Scaramucci struck a deal — which is still under regulatory scrutiny — to sell his stake in his hedge fund, SkyBridge Capital, to Chinese conglomerate HNA Group and another company. He assumed that he'd be put in charge of the public liaison office, a job that Valerie Jarrett held in the Obama administration. He had it all mapped out, according to the White House adviser. He identified 2,500 influential business leaders across the United States and had come up with a clever name for them: Trump Team 2,500. He believed these people would help pressure Congress into supporting the president's agenda.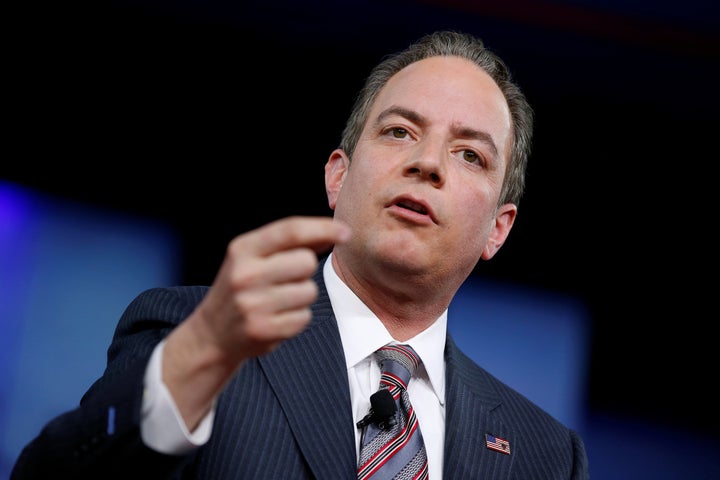 But Scaramucci's plans were foiled in early January. That's when Priebus, according to a confidant of both Scaramucci and the president, told Trump, "He played you."
"How's that?" Trump asked Priebus, according to the same source, who has spoken to several people within the White House about the conversation.
Priebus then told Trump that he felt Scaramucci had been offered too much for SkyBridge by HNA Group. The deal, he implied, smelled bad — as if the Chinese might expect favors from within the administration for that inflated price. The source also said that Priebus mentioned there was email traffic between Scaramucci and the Chinese proving this.
The White House rejected this version of events and declined to make Priebus available for comment.
Ultimately, Scaramucci was not offered the job.
But he didn't give up. He asked Trump son-in-law Jared Kushner to get him in the door. According to two people familiar with the conversation, Kushner assured him that he didn't think Scaramucci was "shady," adding, "But it's not what I think that matters." Priebus had already planted the seed of doubt in Trump's mind.
Scaramucci then tried presidential adviser Steve Bannon, who, according to those same two people, explained that he was too busy attempting to save the job of another adviser, Stephen Miller, to spend time or capital trying to help Scaramucci.
A friend of Scaramucci's said he complained that some in the White House assumed his finances were suspect because he's of Italian descent. Scaramucci also took Priebus' behavior as a sign that Priebus was feeling insecure about his own job. "I will try things the Washington way first," Trump had told his inner circle when he first named Priebus chief of staff, according to the confidant of Scaramucci and Trump. The implication was clear: If the Washington way did not work, then the New York real estate way would take over.
Finally, Scaramucci went to Keith Schiller, the president's longtime bodyguard. He asked Schiller to put him on the phone with Trump so that he could lodge his complaints directly. The president listened, according to their mutual friend, and said he would find a position for Scaramucci as soon as he could.
In June, Scaramucci was appointed to be senior vice president and chief strategy officer of the Export-Import Bank. But the Priebus incident lingered in his mind.
So, on July 11, when Donald Trump Jr. found himself in trouble for holding a meeting with several people close to the Russian government the previous summer, Scaramucci sensed an opportunity. According to the mutual friend, Scaramucci told everyone he spoke to that day, including the president, that he was sure the person who divulged details of the meeting was Priebus. Scaramucci made the case — not necessarily backed by evidence — that with all the leaks targeting the administration, it was odd that only a few had hit Priebus directly.
Ten days later, Scaramucci was named the new White House communications director. The announcement noted that he would be reporting directly to the president — an unusual move that leapfrogged over the chief of staff.
Priebus balked, insisting that Scaramucci report to him. But Trump overrode his chief of staff. Not only was the hedge fund manager who had known Trump for 21 years officially in charge of the press shop, but he was also set to oversee the reorganization of the White House. Scaramucci seemed to have his revenge.
At least until Thursday evening. In an interview with The New Yorker, Scaramucci called Priebus "a fucking paranoid schizophrenic" and explained how he, unlike Bannon, is "not trying to suck my own cock." Now, Scaramucci's future at the White House is less clear, even if Trump reportedly "loved" the outburst.
Two sources close to the president said the very traits that have so endeared Scaramucci to Trump — tenacity, frankness, limitless swagger — could end up endangering his new job if he continues to steal news cycles from the president. But those same sources said he's safe for now.
"Mark my words: Anthony will ultimately be an exceptionally good communications director," said Sam Nunberg, a former Trump aide who still talks to the president. "His career proves he's a master communicator. I hope he keeps his perfect chin up."
On Friday, the news broke that Priebus had been ousted as chief of staff.
The story has been updated to remove a reference to a lawyer whom Scaramucci and Kushner share, as Scaramucci hired that attorney before he was first turned down for a job in the administration.